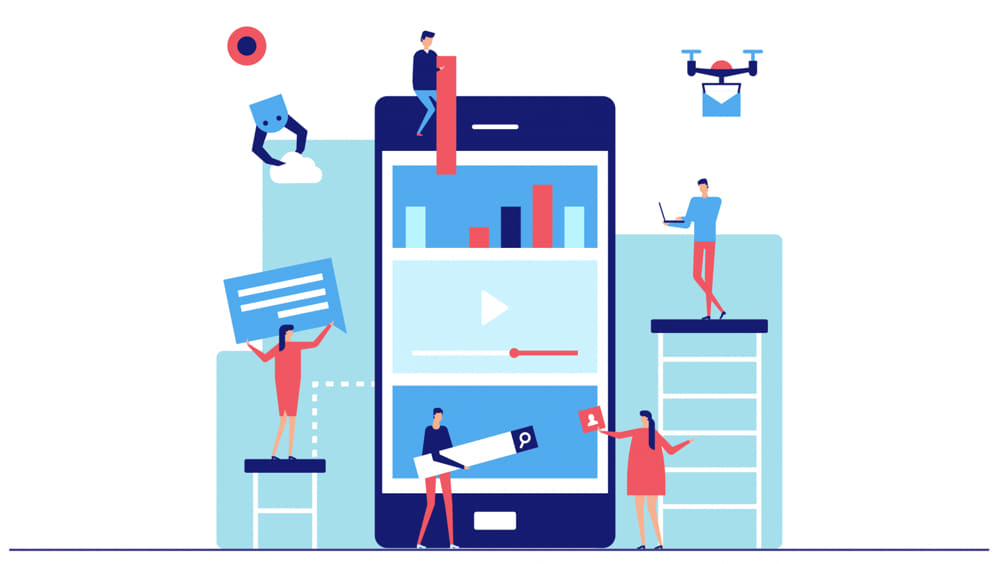 React Native App Development
REACT Native is a JavaScript-based framework (also known as JSX – extension to JavaScript), backed upon by Facebook itself, which is used to build real and natively rendered mobile applications. As JavaScript is supported by both Android and iOS, any hybrid mobile application built using this framework can easily be used on both the mobile platforms with utmost ease and very little development efforts.
We recommend this framework to every client, who are looking for Cross-Platform Mobile App Development services, due to REACT Native's huge set of advantages over other popular platforms and frameworks, like Ionic and Cordova.
Shiv Technolabs is a well-known React Native Development Company that is well-versed in cutting-edge online and mobile technologies. We believe in offering next-generation React Native app development services with a clear understanding of your company goals and giving unrivalled solutions to create powerful mobile experiences.
With our React Native App Development Services in Australia, you can create business-powered applications with a pleasant UX, precise consistency, and great performance value.
To keep you informed, we use the agile technique. Our Best React Native App Development Company in Australia is well-known for providing high-quality React Native app development services that adhere to your company's objectives, timetable, and budget.
Compatible - commendable for any Hybrid or Cross-Platform Mobile Application Development projects
Platform Independent and Open Source - The code was written using React Native development framework is fully compatible with both Android and iOS platforms. This means that you are no longer bound to develop different codes and libraries individually for each platform. Additionally, the framework is available as Open Source - hence you can easily hire dedicated React Native Developers and customize your mobile app easily.
Real-Time Code Push - Real-Time Testing :The architecture of React Native framework by default has features like CodePush, which helps to push the new codes to the production builds real-time. This not only ensures that testing can be performed in sync with development activities but also helps in pushing bug fixes to users in real-time.
Shorter Project Lifecycles - Less Cost : As development and testing activities take less time than it takes to develop other mobile apps, the Project duration reduces which helps you save big time on the overall budget allocated.
Code Reusability and Development Support - As code written for React Native frameworks is platform-independent, it can be reused across multiple projects and can easily be inherited. Along with that, the developer community of React Native app developers is very active and collaborative towards the open-source project.
We have the most affordable pricing on the market. Our Top React Native App Development Services in Australia cater to our clients' various financial requirements from all over the world.
Every member of our team — designers, developers, quality analysts, and a project manager – strives for client happiness. We provide Best React Native App Development Services in Australia that are in line with our clients' requirements.
To meet your various development needs, we provide a full spectrum of Top React Native App Development Services in Australia.
Shiv Technolabs is a Best React Native App Development Company in Australia that assists startups and industry titans in developing strong react native solutions. By developing great mobile apps, our react native professionals utilize their experience and honed approach to help your business expand multifold.
Hire React Native App Developers Australia who can integrate the framework with native languages to give higher performance rates.
We provide end-to-end bespoke React Native solutions for a variety of industrial verticals. Our React Native mobile app developers are well-versed in the most recent technologies, lean techniques, and will discover the ideal solution for your development needs.
Hire React Native App Developers Australia to review the code from your current application. Our experts are skilled in reviewing and dissecting code quality in order to identify flaws and reduce bottlenecks in order to enhance code execution, speed, and stability.
Why You Should Choose Shiv Technolabs, One Of The Best React Native App Development Company In Australia?
Cost-Effective Solutions - We at Shiv Technolabs are truly committed to serving our customers in the best possible way as a Cross-Platform App Development Company, and have the most competitive pricing solutions on offer.
Domain Expertise - Shiv Technolabs have good bench strength of both Development and Project Management teams, having spent thousands of man-hours to attain relevant React Native framework domain experience.
Support Services - Shiv Technolabs provides assisted support services to its customers even after the project is Live at negligible cost, which truly makes it one of the best Cross-Platform App Development Company in Australia.
Quality Assurance Services - As Shiv Technolabs has been termed as one of the top React Native app development companies across Australia, we make sure none of the projects are made live without thorough checks by our testing teams. This ensures the released product is bug-free and is fully functional post release.
We excel in delivering apps with near-native quality while requiring the least amount of time and development effort. As a Top React Native App Development Company in Australia, we have incredibly polished ideas and processes that have enabled us to successfully launch hundreds of unique solutions throughout the world.
Hire React Native Experts Australia from Shiv Technolabs to create some fantastic apps that function seamlessly across many platforms, transforming every possible concept into reality. We've created React Native iOS and Android apps for a variety of industries, including travel, healthcare, and eCommerce.
Shiv Technolabs, as a Top React Native App Development Company in Australia, ensures that you can create cross-platform, feature-rich, and engaging mobile apps by using the power of React Native. To meet our clients' expectations, our React Native developers work with flexibility and focus on their demands.
Shiv Technolabs has been a pioneer in providing React Native App Development and other Cross-Platform App Development services across multiple domains and has emerged as one of the top React Native App Development Companies in recent times. If you are looking for a company providing the best Cross-Platform Mobile App Development solutions, then we are your one-stop solution for all your queries.
Got any exciting project work opportunity for us? We would love to hear from you, contact us today.